Dinner at
Il Buco Alimentari
Not completely sold on the hype of Il Buco Alimentari. Sure the food is good, but its also pricey. We felt pretty lucky to grab a table on a Saturday night; but it was more like a dining counter than a table. Our experience didn't start off great as three different people asked us if we'd like to start with sparkling water. Its such a minor thing, but really does rub me the wrong way. Finally tap water was poured as we looked over the drink menu. We started with cocktails and then headed into a wine that I'm still not too sure what the hell it was. We were on a budget so a brunello or barolo was certainly out of the question.
Still annoyed by the sparkling water upsell, my disappointment continued when I read that bread and olive oil was $1 per person. This was a rough start; but we laughed it off as we sipped our well crafted cocktails.
A couple allergy restrictions of my friends kept me from getting a few menu items that caught my eye; but I was glad to venture of the box. We sk ipped the $40 plate of iberico ham and went straight for the carpaccio di baccala (house salted cod, meyer lemon, sea beans, chili, carta di musica) and grilled Vermont quail served with persimmon, puffed farro, and yoghurt. The appetizers were OK-- pretty good at best. We moved onto the carbonara which was way to eggy. I understand that carbonara could be so many things to different people; but this dish fell short big time. Slow roasted short rib and roasted carrots saved my experience as our main course was delicious. The short rib was not only super tender but it had layers and layers of flavor. The carrots were also one of my favorite parts of the meal as they were brushed with a salsa verde and cooked perfectly.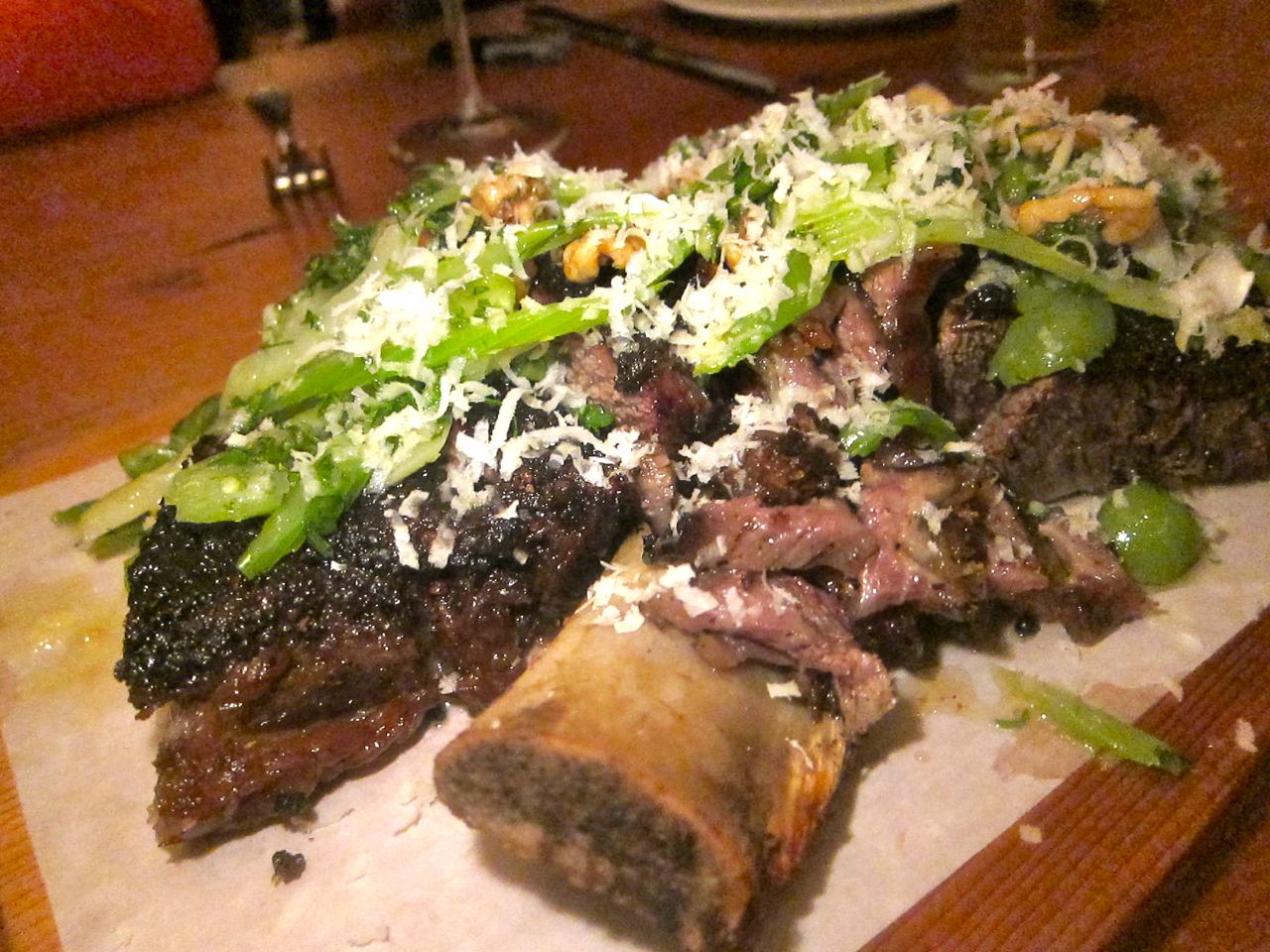 Although our main course was really good, I'm definitely not rushing back to Il Buco Alimentari. After a couple experiences there, I don't know if its worth the value. Sure the food is good; but it doesn't match the price point. The service was OK although lacking hospitality. I still can't believe it was rewarded with 3 stars from the New York Times (then again it was Pete Wells) We skipped dessert and headed over to
The Wren
for cocktails.

CookShop
Don't usually dine out in Chelsea, but headed here to meet up with an old friend, Amanda. The food was good, nothing too memorable; but the company made the experience. Spaghetti squash paired with hazelnut crema, dried cherries, and fried kale while steamed mussels soaked in a romesco sauce with a salsa verde crostini. Roasted brussel sprouts for the table seemed inevitable as to satisfy Amanda's brussel sprout craving. The restaurant itself is casual and comfortable; so if you live in Chelsea than it might be worth checking out. Probably not a destination restaurant.
Rubirosa
After work, Liz and I were hungry so we headed over to Rubirosa for a small bite. That small bite turned into a feast and they graciously styled us out. Roasted octopus, mozzarella sticks, and grandma's braciole were sent out first. Although the mozz sticks and octo were delicious--they didn't compare to grandma's braciole which was dynamite. We also got the Rubirosa salad for some greens to accompany our pizza. We got half classic and half sausage broccoli rabe. So full and so happy is the best way I could describe the rest. Check out Rubirosa fo sho!