Barbuto
Sunday's are always a fun day to wander around the city and see where the day takes you. Today it took me to one of my favorite NYC restaurants--Barbuto. Jonathan Waxman's menu at Barbuto reflects both simple and seasonal in the overall genre of Italian. Simple and fresh is best displayed with Waxman's signature roast chicken with a salsa verde. Some might think this chicken is boring; but its among some of NYC's best chicken dishes with its understated beauty. But the chicken isn't the only thing that exudes beauty. Start with some anitipasti like cheese/salumi and/or a seasonal salad. The kale, breadcrumbs, and anchovy salad was a hit at our table last night. The calamari fritti was also delicious--squid served with brussel sprouts! Pastas are always delicious whether its the carbornara at brunch or the gnocci at dinner. Last night I got the spring lamb which our server told us only comes on the menu for about two weeks a year, so I felt like I had to get it and it didn't disappoint. Definitely a great spot, especially in the nicer months because they raise the garage-like doors which spills out onto the sidewalk of the beautiful West Village.
Tortilla Flats
You don't go to Tortilla Flats for the food--you go for the party. It always seems like people are wildn' out here no matter what time of day. Bachelorette party central.
Blind Tiger
Always a solid selection of craft beers! Fireplace adds good ambiance.
Maysville
If you like whiskey than you better check out Maysville. A cool spot to grab a drink after work or late night. Was suppose to have dinner; but they were fully reserved till 9. I've heard pretty good things about the food.
Cucharamama
One of Hoboken's most celebrated restaurants serving up South American cuisine. Cucharamama is hugely popular and could probably consider itself a destination restaurant for people living outside of Hoboken. I've wanted to visit Cucharamama for quite sometime; but its not exactly easy to score a table. A few weeks ago, we called and they had plenty of room; so Stef and I decided to check it out.
"Still or sparkling", the waiter asked with my reply being "tap water, please". He then went on to tell me that Hoboken's water isn't any good and I needed to get bottled water. I instantly turned off by the service in his rude attempt to up-sell me on water. I later found out that there was a problem with the Hoboken water system (that week) but the server could have given me more texture on the situation. If there's one thing I hate, its up-selling me on water. I decided to drink sparkling water because Stef likes sparkling; but I actually hate sparkling water; so it was a rocky start. I then tried to forget about the experience; but the service just didn't get any better.
Besides the service, the food was pretty good. The menu was super big and scared me; so I let Stef take the lead because I pretty much eat anything. There was literally over 50+ menu items which made me think of a diner or the cheesecake factory. Large menus make me think poor quality; which isn't always true; but I can't help make the connection--especially when you're one of four tables on a slow Sunday night.
But again, the food was all pretty good.I'm going to give Cucharamama the benefit of the doubt and say that the bad service was abnormal. I'd try it again --after all we only covered 1/8 of the menu.
Montmartre
Awesome dinner here for Isabella's birthday. A bit pricey; but solid Stulman spot. Gabe Stulman (aka Little Wisco) has been crushing the West Village scene with favorites such as Perla. Fedora, Joseph Leonard,Chez Sardine, and Jeffrey's Grocery. Montmartre is a french bistro with the menu from Tien Ho who made his name working with the Momofuku empire. All the food was pretty solid, except dessert which is taking the award for worst dessert I've ever had. It was a pot de creme that tasted like fish sauce. I don't know what happened here; but it was pretty gross. Granted the desserts were sent out with the kitchen's compliments; but I would have paid for someone to take that away. I think all the desserts fell short; which was a shame because it left me with a bad taste in my mouth.
But we did have an awesome 1995 chardonnay from Kalin Cellars. We followed that with a white from Jura which wasn't my favorite; but lets just keep that between us. Not that the Jura white was bad, it just didn't fit into our meal.
Overall, a great night out on the town.
Corkbuzz
Went to Corkbuzz after for Champagne Campaign. 50% percent off champagne after 10pm. Satisfy you're crippling champagne addition at half the price! Definitely worth checking out. Great spot!
Bloomfield Spots
Spotted Pig
Crowded and cramped yet cozy and homey. Good food, not GREAT! For me its more a scene-y NYC gastropub more than a fine-dining establishment its Michelin star would suggest. Waits might be long; but its one of NYC staple restaurants so its definitely worth checking out. The restaurant is one of the West Village spots that reminds of a vintage townhouse.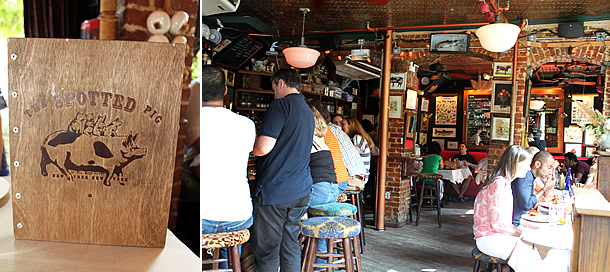 We started with some "bar snacks" like the deviled eggs and the chicken liver toast--both pretty good. Then we moved onto the a frisee salad with a duck egg, pancetta, and anchovy dressing. But the most anticipated items came last--the burger and the gnudi. People always rave about the burger; but I thought the blue cheese was too much. The beef by itself was so tastey that I would have preferred a more mild cheese so that the cheese complimented the burger. The roquefort was too overpowering and dominated the beef. The shoestring fries with the burger were bangin'. The gnudi was good; but again I don't see how people talk this up so much. Beets with braised greens were sent out complimentary and were pretty solid even though I don't usually love beets.
John Dory Oyster Bar
Was pretty pumped to try after some great feedback from some friends throughout the years. Walked in and got a table for 4 on a busy night which was cool; but the service suffered because of the crowd. "Are you the only server for the whole restaurant" one of my friends asked our server. "No, but I have a bunch of VIPs", he replied as he seemed was looking around: anxious to leave the table. So maybe there was a celebrity sighting or the guy from Dogfish brewery was right next to us; but then there should be more support so he could atleast get us some drinks and take our food order.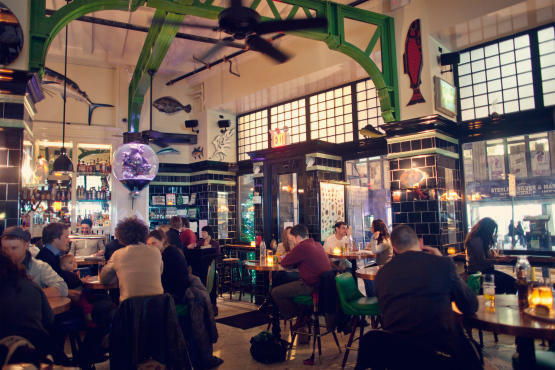 The food was pretty good; although portion size and price didn't match up really well. After the 4 of us racked up a $300 bill, I felt hungry. I was considering a slice of pizza; but I was already maxed out for the night. Some people think its a great place for raw bar and cocktails; so maybe one day I'll give it another try. Again, the food was all pretty good; but I just can't justify that price. If I want to spend alot of money on seafood than I'll go to Le Bernadin.