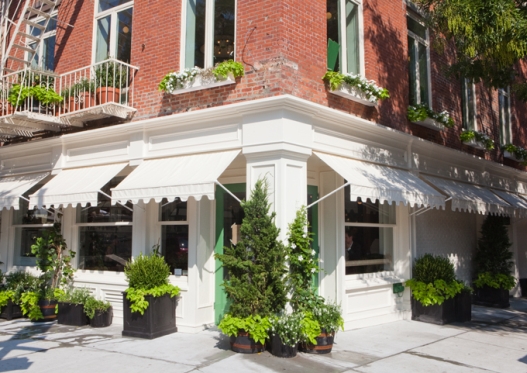 Good End to 2011
I started the day with Adam and Souch at Peels on Bowery. Taavo Domer and William Tigertt are the masterminds behind Peels and Freeman's--another popular LES restaurant. Adam suggested Peels after talking up the food, so Souch and I agreed to check it out. The wait was a 45 minutes, but that seemed short compared to what we had heard (2 hour wait for brunch!). There's nowhere really to stand inside, so guest that are waiting for a table are encouraged to grab a coffee and wait outside. Peels serves Stumpton-- the coffee provider of a lot of hip spots around NYC. The wait seemed short--maybe thats because the people watching is so good. Hipsters and models were only two kinds of people that you might find at Peels. Good food has no demographic --it attracts all and thats why there's such an array of people that flock to Peels. I haven't heard anything GREAT about Peel's lunch or dinner; but people rave about the brunch.
Peel's serves Southern style cuisine, so I was pumped. Fried chicken, biscuits, and shrimp and grits are some of my favorite things--especially when a little hungover. We sat upstairs at a communal table that resembled an old farm table. This tables make up most of the floor plan with the exception of a couple of booths. The place was bustling as servers ran around frantically. While we waited, I paid close attention to the dishes that flashed before my eyes; so I can see what looked good. The menu had a bunch of great options, but I'm a sucker for "build your own biscuit". I bypassed building my biscuit with eggs and went for the fried chicken. The combination of the buttermilk biscuit and fried chicken was only amplified with pepper jack cheese and bacon. The biscuit was hard to get your mouth around, but once you did --you closed your eyes in pure pleasure. The fried chicken was perfectly crunchy and packed a nice background heat that was more spicy that the pepper jack. It was really an incredible sandwich that I would get again. In fact, I've been thinking of when the next time I can go for brunch--too bad I work on weekends. I also ordered the grits which were beautifully cooked with jalapenos. Again, Peels does a nice job in giving you flavor and spice. Being that it was the last day of 2011, we decided to get some drinks with our meal. The Bond St Swizzle is a great brunch cocktail that will get you ready for the day to come. A combination of gin, orgeat, mint, lime, and an absinthe float provided that zing that made me believe getting a drink was a good idea! Adam and Souch went with the Cold Toddy-- a delicious combination of whiskey and spices.
The service wasn't great; but I'd still go back so it couldn't of been that bad. I felt our server seemed bothered by a simple question regarding her favorite dishes; when it was a perfect time to up-sell. I wanted to get a few things for the table to share; but she didn't have an answer for me; so we just ordered and moved on. It turned out that it was a good idea we didn't get more food because we all left stuffed. At first glimpse, my biscuit sandwich looked small; but turned out being quite filling.
After Peels, we hit up a couple of stores and ended up at Gramercy Tavern. We managed to get a nice spot at the corner of the bar. We started off with some nice cold draught beer than moved on to Manhattans. We had a bit of a Manhattan tasting as our barkeep mixed three Manhattans three different ways--one with bourbon, one with rye, and a perfect Manhattan which has both sweet and dry vermouth. Somehow it turned out that we all agreed on which one we liked better--all different. After meeting a nice local Jillian and grabbing some oysters, we headed out to begin the festivities that are New Years Eve.
(bond st swizzle @ Peels)
A great way to end the year!
Peels baked goods